Brief History
Hong Kong was ceded to Great Britain in perpetuity as spoils of the 19th Century Opium Wars. For the next 156 years, under British influence, Hong Kong developed a political culture unique to Mainland China and flourished as an open economy. In 1997, after years of negotiations,  Hong Kong was returned to China­ and became known as the Hong Kong Special Administrative Region of the People's Republic of China (SAR). As part of the transfer of sovereignty, Hong Kong was promised a "high degree" of autonomy in most internal affairs and preservation of their capitalist system. The resulting "one country, two systems" agreement was set in place for 50 years. However, it is unclear as to what will happen after 2047, when the agreement expires.
Since the reinstatement of Hong Kong into Mainland China, the city has gone through various periods of pro-democracy protests as certain actions from Beijing have been viewed by Hong Kongers as doubling down on the "one country" side of the deal. Protests in 2006 and 2014 drew hundreds and thousands of Hong Kong citizens rallying for greater democratic freedoms. The current and ongoing protests are pushing much of the same battle cry.
11th Straight Week of Protests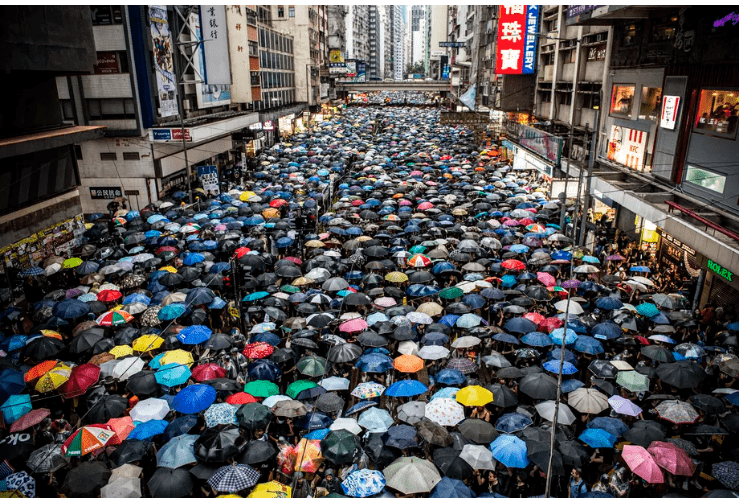 In June, the government of Hong Kong proposed a controversial bill that would amend the city's current extradition laws, allowing China to extradite criminals to mainland China. Hong Kong's current legal system mirrors the British model, emphasizing due process. Thus, Hong Kongers viewed this bill as an overstep of the "one country, two systems" policy, sparking ongoing protests, which have been among the largest in Hong Kong's history.
On June 9, organizers claimed more than one million individuals took to the streets of Hong Kong to oppose the extradition bill, which was the largest demonstration since the city was returned to China in 1997. Hong Kong police reported a number closer to 240,000.
Since then, millions more Hong Kongers have been involved in a protest of some kind, and there have been an estimated 700 arrests, according to Chinese officials.  The protests have been violent on both sides – protestors have attacked government buildings, ambushed Mainland Chinese who were suspected as spies, and assaulted officers with gasoline bombs.
The police have also been accused of heavy-handed responses to the protests, with over 2,000 rounds of tear gas and 160 rubber bullets deployed. On Sunday, August 11, the police fired tear gas into a subway station. That same day, a woman's eye was ruptured by a rubber bullet after police fired into a crowd.
The triads, a known organized criminal organization, (better known as the Chinese Mafia) got involved in the violence in a brazen attack on protestors on July 21 at a train station near the Chinese border. 100 masked men in white tee shirts attacked not only protestors (identified due to their black tee-shirts) but passengers, and journalists too with wooden sticks and batons, leaving 45 people injured.  This incident was similar to a triad attack on protestors in 2014 but much more serious as passengers were also attacked.
Now in its eleventh week, the protests show no sign of slowing down, as some 1.7 million protestors defied police and demonstrated last weekend. And, for their part, the Chinese government does not show any signs of offering concessions to the extradite bill. In fact, it is likely that the tensions will continue to increase, making the area a potential health risk of travelers. As crowds increase, as does the likelihood of injury. As demonstrators continue to take to the streets and to the airport, medical ground & air transportation becomes obstructed.
The Latest Response From Beijing
Last week thousands of Chinese securities personal began amassing at the border with Hong Kong. The troops are part of the People's Armed Police (PAP), a division of the armed forces dedicated to quelling internal dissent in China. Officials state that the troops are taking part in drills that were planned months ago. China's ambassador to the United Kingdom has stated that Beijing is prepared to intervene if the situation deteriorates further. Such an intervention could increase violence and make freedom of movement throughout the city more difficult.
Over the long term, it is clear that China is seeking to further integrate Hong Kong and Macau. China plans to invest heavily in Shenzhen to encourage increased connectivity between the mainland and the Special Administrative regions.
Risk to Travelers
Overall it is estimated that thousands of individuals have been injured in the protests since the beginning of June. As of August 14, the US State Department has issued a Level 2: Exercise Increased Caution in Hong Kong due to civil unrest. If you are traveling in Hong Kong, avoid protests and areas where protests have occurred and remain cognizant that protests have spilled over into neighborhoods that were not originally authorized by the police.  
The largest protests have centered in the southern areas of the city, particularly on Hong Kong Island and in Kowloon. Demonstrations have blocked trains from leaving train stations causing vital subway lines to be suspended or delayed. Protesters have blocked traffic roads and highways. Major roadways have been disrupted, including the Cross-Harbour Tunnel, an important connection between Hong Kong Island and Kowloon.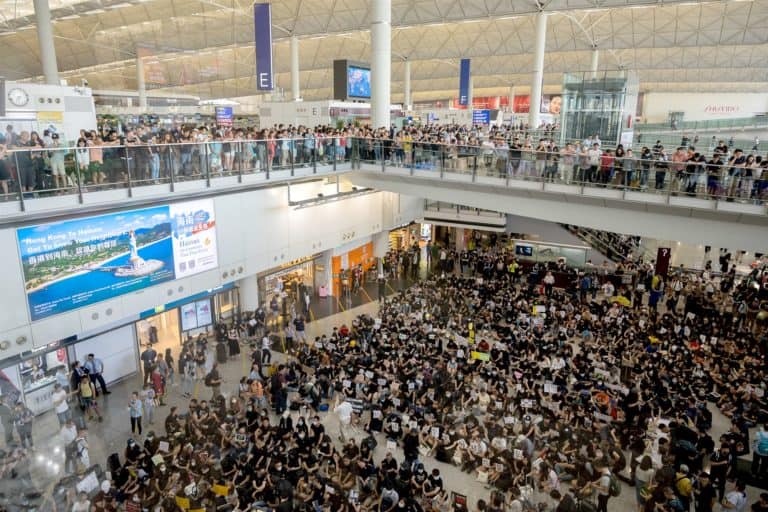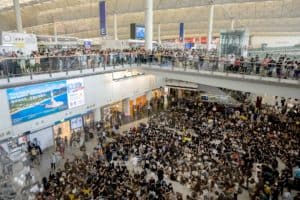 Last week, protestors gathered at the Hong Kong International Airport (HKIA, the 8th busiest airport in the world), and during five days of protests, over 1,000 flights were canceled. This affected over 55,000 travelers, some of whom were stranded for up to three days. In a recent CNN interview, a participating protester said that the reason for the airport "sit-in" is because "protesting in the airport is safer than the streets because we think that they (authorities) may take care of the tourists."
These impacts on road and airport infrastructure can affect access to healthcare by inhibiting travel to a medical facility or medical evacuation. On August 15, a woman disobeyed police and blocked an ambulance entrance to a hospital. The woman was not engaging in protest, but this example illustrates how easily medical care can be disrupted, and the risk of interference to medical operations only heightens during periods of severe civil unrest.
Hospital Sit-Ins Increase Risk To Healthcare Facilities Operations
On August 13, over 1,000 healthcare workers staged a sit-in protest at 13 healthcare facilities in Hong Kong during their lunch hour, opposing police violence in the protests. Medically speaking, this is very concerning, as sit-ins by hospital staff inherently disrupt hospital functionality. If protests spread to include a large portion of hospital staff, it may cripple the hospital's operations and lead to inadequate care. Additionally, sit-ins could lead to potential conflicts of interest when treating patients on either side of potential violence. And just the perception of conflict could lead to increased scrutiny of hospital personnel and could slow down access to care.
Demonstrations Exacerbate Existing Flaws In Hong Kong's Healthcare System
Public hospitals in Hong Kong have long been plagued by overcrowding. In 2017, roughly one-half of physicians in the city worked in public facilities, however, public facilities were responsible for seeing over 90% of patients. As reported by VIGILINT in July 2017, even seasonal flu outbreaks have stressed hospitals to 124% capacity, resulting in 8 hour wait times and insufficient care.
A 2018 study funded by the Hong Kong Polytechnic University evaluated that Hong Kong falls short in three key areas of disaster preparedness:
institutional capacity
risk identification
disaster resilience organization.
Additionally, the study stated that "socio-political dynamics [such as protests] may create new and unpredictable disaster risks."
A 2016 survey conducted by the Hong Kong Jockey Club Disaster Preparedness and Response Institute found that:
41% of nursing and medical staff interviewed believed that Hong Kong was at risk of disaster due to civil unrest.
Only 26% of medical personnel surveyed had taken part in a hospital disaster drill in the previous two years.
63% of emergency services staff felt the city's overall disaster response preparedness was inadequate or very inadequate.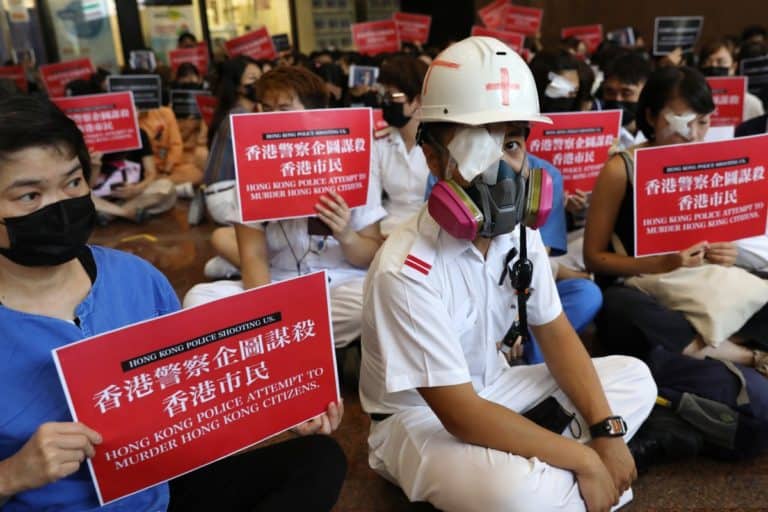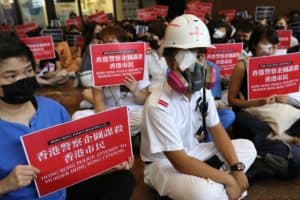 Travelers and companies with business in Hong Kong should be made aware of these shortcomings in local medical facilities and have a plan in place for where to go for the most efficient medical care.
Dr. Ossmann, VIGILINT ER physician: "The presence of civil unrest in Hong Kong has the potential to limit both routine and emergent access to healthcare. Residents and visitors should ensure that they have a reasonable cache of any required medications and/or medical supplies on hand. In addition, we would recommend that they identify a backup healthcare facility capable of providing emergency medical care in the event that they cannot access their preferred facility."
If you are traveling to Hong Kong or have business operations there, it is vital to maintain situational awareness of the evolving protests and Beijing response. Individuals should monitor protests and increased violence in areas that they do business, or plan to travel. The potential for more staged protests at HKIA is especially significant to monitor, as flights (both business and aeromedical evacuation) could be obstructed. Continue to follow the US State Department's advisory warnings for the area and other credible sources.
Traveling to Hong Kong? How VIGILINT Can Provide Care:
VIGILINT offers Medical Contingency Briefs for travelers and clients, using proprietary research and analysis, coupled with real-time intelligence from EMS providers, NGOs, expatriates, and private clinics. We evaluate hospitals and medical facilities in Hong Kong with specific, down-to-the-minute details including bed counts, blood transfer access and available equipment.
VIGILINT offers telemedicine services which can be utilized in case of a minor-major injury/illness in Hong Kong. Within 30 seconds of calling, travelers will be connected to an ER Physician who can assist with any medical emergency. If medically necessary, a Cleveland Clinic specialist can be accessed for a secondary consultation. VIGILINT will coordinate all aspects of medical transportation and aeromedical evacuation to the patient's home hospital of choice.
Contact VIGILINT for more details.