Today marks one year since the Democratic Republic of Congo (DRC) declared an Ebola outbreak, and is now considered the second-deadliest Ebola outbreak in the history, according to the WHO, topped only by the one in West Africa in 2014. One year later, the fight to contain the outbreak is far from over.
This summer saw the first cases of Ebola in neighboring countries. A case was confirmed in Uganda on June 10, and the very next day, Uganda's Ministry of Health declared an Ebola Virus disease (EVD) outbreak in the western Kasese district. Thus far, three cases have been confirmed, with all three subjects confirmed dead because of the virus. The initial case was a five-year-old boy who migrated with his mother and four close relatives, from the DRC on June 10th. The boy was brought to Kagando hospital in western Uganda displaying the known EVD symptoms. Soon after, the boy was transferred to Bwera Hospital Ebola treatment unit where the proper tests were conducted to confirm the boy had the Zaire strain of Ebola. Two of the boy's family members, his grandmother and younger brother, also developed symptoms and were isolated at Bwera Hospital before ultimately passing away days later.
This recent incident solidifies concerns shared by the World Health Organization (WHO), Centers for Disease Control and Prevention (CDC) and other global health organizations, that the current Ebola outbreak is crossing into DRC's neighboring countries. Further, it reiterates the importance of neighboring countries to enhance outbreak preparedness and response strategies. The WHO, in collaboration with the CDC and other partners, have responded to the Uganda situation with a task force to coordinate response efforts and follow up with 90 identified contacts, including three healthcare workers, to begin ring vaccination procedures. The WHO and Uganda's Ministry of Health are exhausting every effort to remain ahead of any other potential cases in the western portion of the country.
Despite the Ebola virus officially entering multiple nations, the main focus of outbreak containment remains in DRC's eastern-most provinces. Rebel groups, militias, and terrorist organizations, plague this region with violence and gunfire as they battle with undermanned and ill-equipped Congolese military forces, or with one another.
VIOLENCE IN DRC HINDERS AIDE RELIEF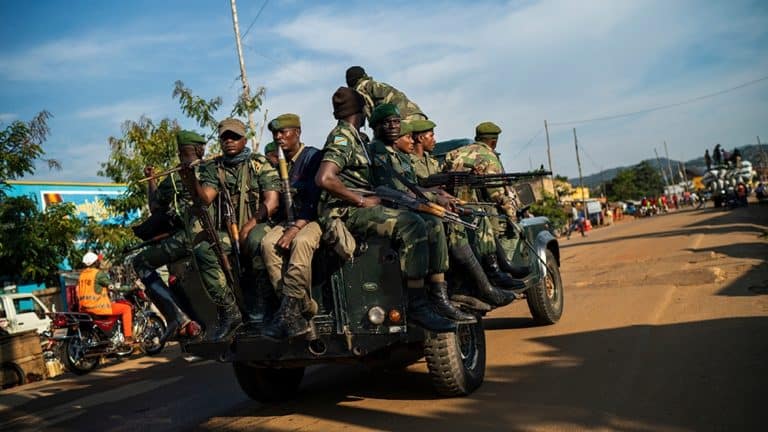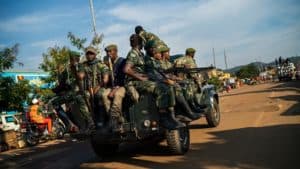 As recently as June 17th, inter-communal clashes between two indigenous communities led to 161 people being killed after fighting ensued over the alleged killing of four members of the Lendu community. Armed clashes between the two communities have continued since the inception of the conflict.  Earlier, in the same month, Congolese military forces engaged in heavy fighting with the Allied Democratic Forces, a rebel group in North Kivu province. The ADF has engaged in multiple attacks on military buildings in addition to raids on civilian villages throughout the province. Occurring in the same area, North Kivu province, two attacks took place last month and were claimed by the Islamic State (IS).
These incidents are just a few, in a long history of violence and instability throughout eastern DRC, but they are arguably the primary obstacle in the way of healthcare and aid organizations gaining a handle on the outbreak which has claimed the lives of roughly 1,500 people since August of last year.
Attacks from a multitude of the above mentioned armed groups have forced response efforts to be suspended multiple times. With each suspension, the potential spread of the virus only heightens as more and more people go without any exposure to awareness efforts or the ring vaccination procedures. It took approximately 224 days for the current outbreak to reach 1,000 cases. That amount of cases had doubled just 71 days later after further instability forced health workers and officials to withdraw from several areas for a certain period.
In addition to slowing mitigation efforts, the sporadic attacks have created distrust among the local population and national authorities. The early stages of the outbreak caused a surge of aid workers to the area while locals remained misinformed. Reports of Congolese police and military forcing local communities to accept Ebola treatment. This fueled suspicion that the virus is a manufactured ploy to exploit the area for its minerals, which has been a talking point of several warlords in the area to instill distrust in the UN and governmental officials. To make matters worse, the outbreak became politicized during last year's overdue elections, in which voting was suspended in Kivu towns of Beni and Butembo for fears of Ebola spreading, a decision that only helped solidify many local's skepticisms of the Ebola threat.
The combination of these and several other factors have led the WHO to conclude there is "a high risk" of further spread within Congo and neighboring countries. Authorities in Rwanda, South Sudan and Uganda have worked hard to increase their containment capabilities and public awareness campaigns. However, the populations in border areas tend to be very mobile, with residents crossing borders several times to meet with relatives or conduct business. Additionally, border checkpoints can be very informal with minimal accountability. The recent uptick in ethnic violence may also increase residents' migration as they may attempt to flee areas of conflict.
OUTBREAK IN GOMA, NORTH KIVU PROVINCE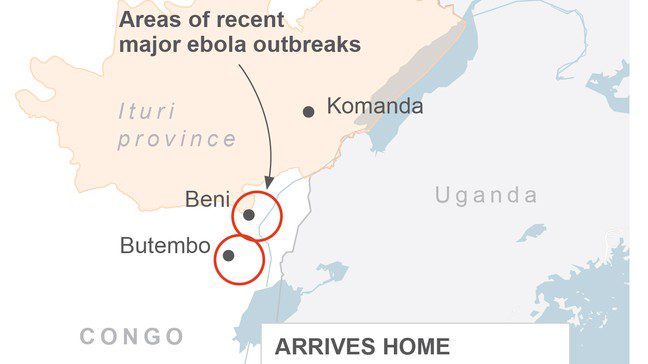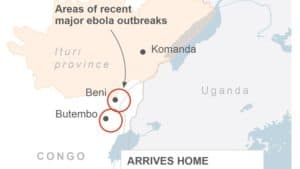 One of the primary concerns for Health Officials is an outbreak in the city of Goma, North Kivu Province As of press time, there have been three confirmed cases of Ebola in Goma which lead Rwanda (border country) to close its borders with Congo today. The city has a population of approximately 1 million, and limited healthcare resources capable of containing a large-scale outbreak. The city sits on the border with Rwanda, where there are fears the disease could potentially spread much quicker due to the country's better-maintained road system, making transportation and travel much easier, furthering the difficulty of both tracking and containment of the virus.
The most recent situation report from the WHO states that as of1 August, there have been 2,687 Ebola cases reported and 1,803 Ebola-related deaths in the DRC. The WHO and its' Director-General declared the EVD outbreak a Public Health Emergency of International Concern. Operational readiness practices have been implemented throughout Eastern DRC and other neighboring countries. The neighboring countries are considered priority 1 and they would be those with the closest proximity to EVD affected regions, Uganda, Burundi, South Sudan, and Rwanda are all considered priority 1 countries.
New Ebola cases continue throughout North Kivu and Ituri provinces. Risk factors continue to evolve as the ability to track contacts makes new as well as previously cleared regions vulnerable. Overall, the call for increased preparedness and detection methods from health officials cannot be emphasized enough. Along with the recent declaration of an international health emergency from the WHO, the U.S. State Department has issued a Level 4: Do Not Travel advisory for the Eastern DRC, North Kivu and Ituri provinces, due to crime, civil unrest and Ebola. While the risk of infection for most travelers is low, the CDC has warned any travelers going to the outbreak area to avoid any and all contact with blood or bodily fluids from an infected person. There is currently no US Food and Drug Administration (USFDA) approved vaccine or specific treatment for Ebola, for that reason it is essential travelers who may encounter infected persons take all necessary precautions. More information can be found on the U.S. CDC website for special recommendations for health care workers and other aid personnel in the outbreak area.