Africa is no stranger to cholera, with the continent accounting for 41% of the world's reported cholera cases in 2015. Cholera is an easily preventable, acute diarrheal disease that is spread by ingesting food or water contaminated with feces. VIGILINT Staff Physician, Dr. Jason Pickett, highlights the dangers of cholera: "Most people infected have mild or no symptoms, but in severe cases, cholera can kill within hours." East Africa has reported multiple outbreaks over the past months, affecting both urban and rural areas and causing worry for aid workers and business travelers alike.
Cholera Outbreaks Across East Africa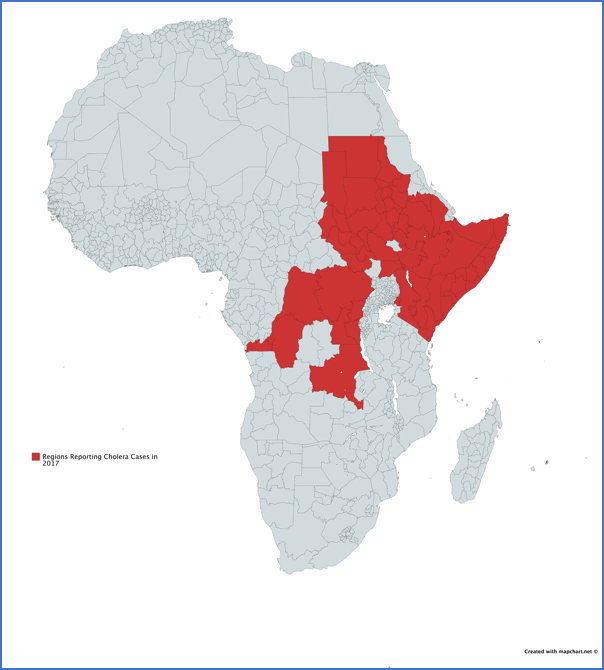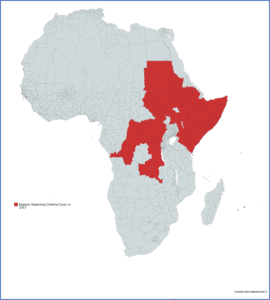 Cholera poses the greatest risk to citizens and refugees in areas that lack access to clean food or water. There are a number of factors exacerbating current cholera outbreaks: mass population displacement, conflict, food insecurity, famine, and drought—to name a few. All of these factors have one thing in common: they destabilize (or destroy) what little sanitation and health infrastructure communities in developing countries have, creating an ideal environment for cholera.
In Somalia, conflict has essentially destroyed health infrastructure in some parts of the country and created regions too dangerous for aid workers to enter. As Somalians seek refuge in neighboring countries, Refugee/IDP camps create communities with high population densities, strained resources, and poor sanitation facilities—essentially, breeding grounds for cholera.
Given the proximity to these situations, aid workers and security groups working in East Africa are at moderate risk of contracting cholera. For business travelers throughout East Africa, the risk of contracting cholera remains minimal. The current outbreak in Nairobi has gained international coverage recently, causing concern among travelers who frequent the area, for good reason.  Two point-source outbreaks have occurred in Nairobi, affecting international travelers. While travelers who stay at internationally recognized accommodations in major cities in E. Africa are typically at lower risk, the outbreak at Weston Hotel and Jacaranda and San Valencia hotels in Nairobi should remind travelers of the inherent risks associated with travel in areas with poor sanitation. VIGILINT Staff physician, Dr. Barbara Carr explains:
"Recent outbreaks associated with mass gatherings have highlighted the need for re-education on food safety and hand hygiene in affected areas. Travelers should avoid tap water, food from street vendors, raw or undercooked seafood and raw vegetables. Rehydration is the primary goal of treatment. Antibiotics are generally reserved for more severe cases or to aid in interrupting cholera outbreaks."
Prior medical preparation is imperative for travel to cholera-stricken areas. Contact VIGILINT for itinerary-specific medical plans and risk assessments.