Latest Measles Data 
 From January 1, 2019, through May 10, 2019, measles cases are now up to 839 and present in 23 states, as reported by the Centers for Disease Control and Prevention (CDC) last week. The outbreaks in the US have been cited as "numerous" and "unrelated" to each other. The multi-state element is alarming to health officials as it shows how quickly this vaccine-preventable disease is being spread.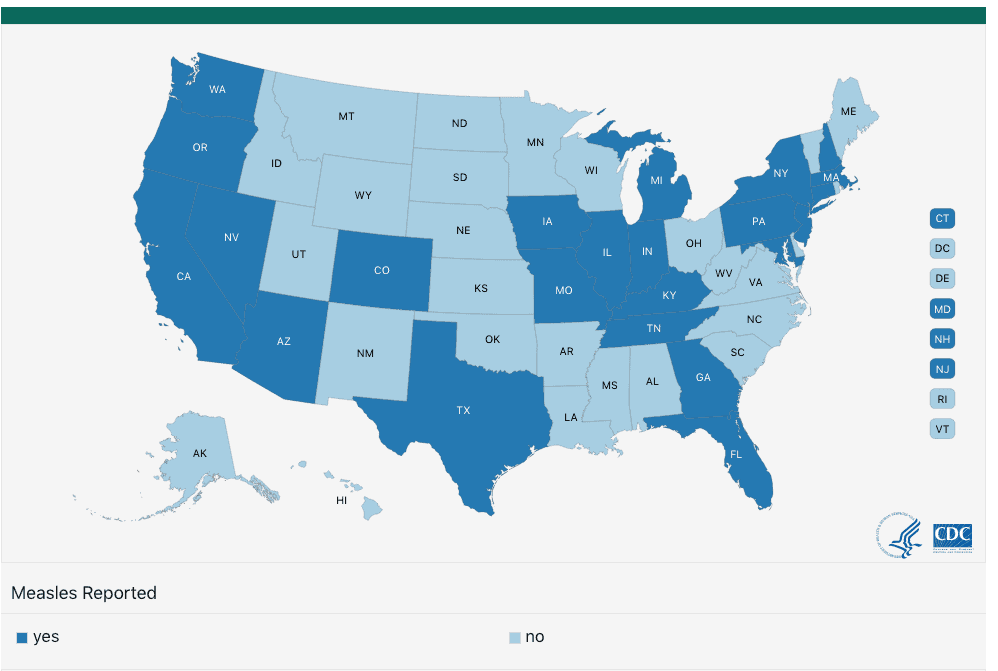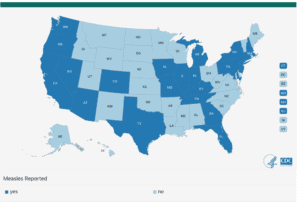 The measles outbreak is worldwide, and major outbreaks have occurred in high-income European countries like Italy and France, as covered by VIGILINT in March. However, according to a late April report from UNICEF, among wealthy countries, it is the United States that has the greatest number of children who did not receive the first of the two-dose MMR vaccine from 2010-2017 (2,593,000 children).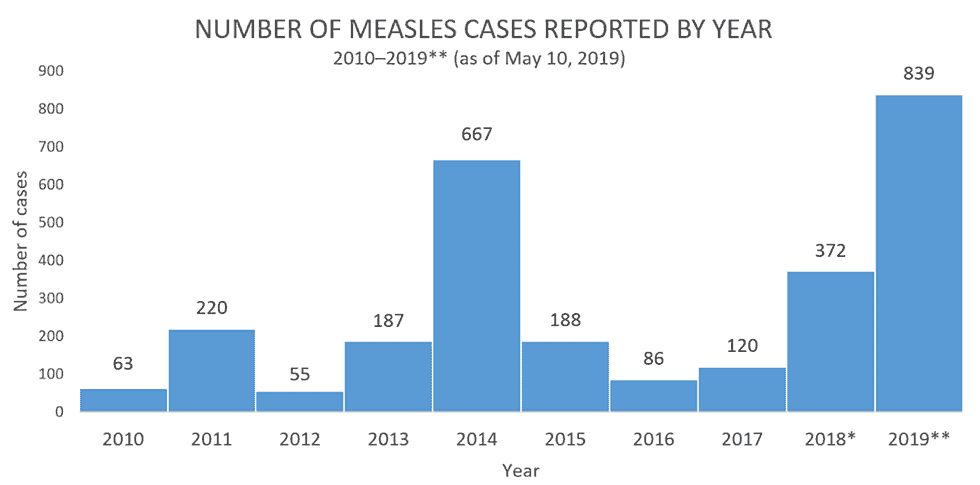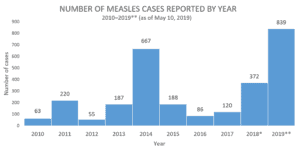 For a country that leads global health efforts and critical international infectious diseases campaigns, the domestic measles outbreak and the spread of anti-vax misinformation has become a great risk for public health safety.
From VIGILINT Physician and Senior Medical Advisor, Dr. Eric W. Ossmann: "The vaccine for measles is safe and effective. 93% of children who receive a single vaccination develop lifelong immunity and the rate goes up to 97% with the second dose (standard practice in US)."
Researchers at the University of Texas and Johns Hopkins University estimated the top 25 counties in the US at the most risk for on-going measles outbreaks, citing low vaccination records and high international travel. Those areas include: Orange, Miami-Dade, Hillsborough and Broward counties in Florida; Los Angeles, San Diego and San Mateo counties in California; Tarrant, Travis and Harris counties in Texas; Queens, New York; Loudon, Virginia; and Suffolk, Massachusetts, among others.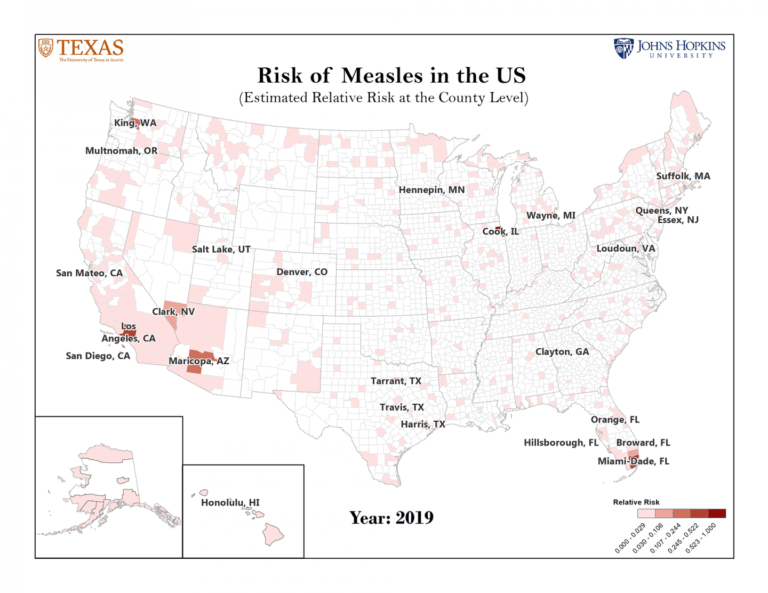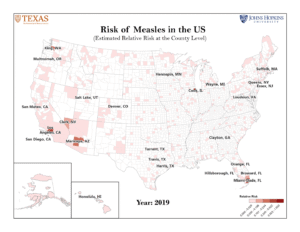 As stated in a previous blog post, measles was declared eliminated in the United States in 2000 due to a widely-implemented vaccination program. Considering just how contagious this disease is, the elimination of measles was considered a major public health triumph.
Elimination vs Eradication 
The elimination of measles in the US 19 years ago has been noted in the media recently, and often "eradicated" and "eliminated" are used interchangeably to describe the public health achievement. However, there is a significant difference between the two verbs.
The CDC states that "a disease is eliminated from a geographic region when no more endemic cases of the disease occur within that region," whereas a disease can only be declared eradicated when "the worldwide incidence of infection drops to zero." Since measles is present in many other countries, it has never been medically considered eradicated. Unvaccinated or undervaccinated US travelers to infected areas could be exposed to the disease, and upon returning home; trigger an outbreak.
The only infectious disease to receive the eradication declaration is Smallpox. The feat was a result of a successful global immunization campaign organized by the World Health Organization in the late 1970s. Programs are in place to eradicate polio (a highly infectious disease that causes paralysis within hours of transmission – eliminated from the United States since 1979 and only 33 reported cases in 2018 worldwide) and guinea-worm disease (a parasite infection spread through contaminated food or water – eliminated in most parts of the world except parts of Africa).
It is critical to understand the difference between elimination and eradication, as measles is still present in many parts of the world. In 2016, the World Health Organization reported 7 million cases of measles worldwide and 89,780 deaths. Unvaccinated individuals, including children under the age of 5, should avoid going to areas of the world where outbreaks are ongoing. All travelers should check with their doctor that they are up to date on all recommended vaccines before international travel.