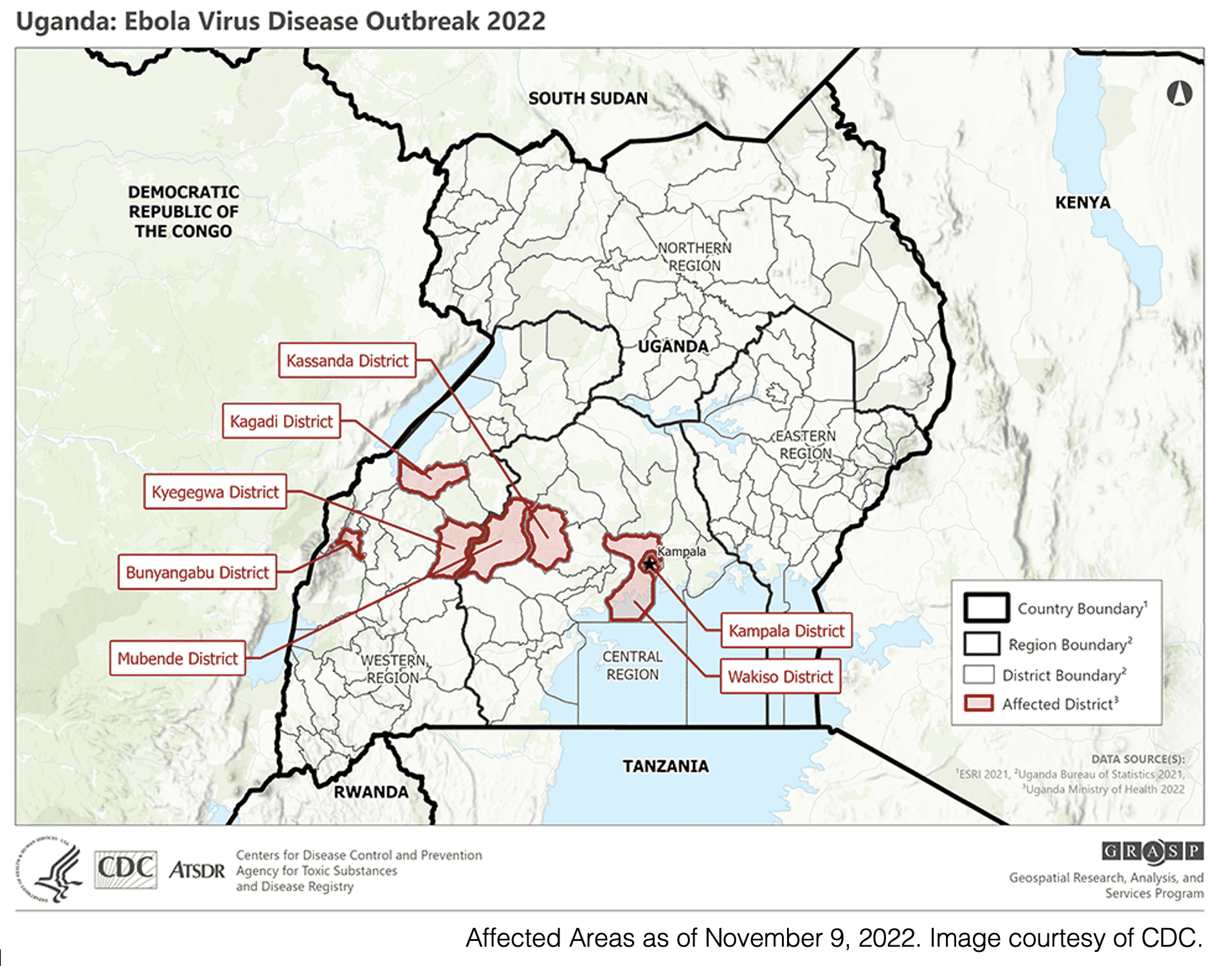 Ebola Virus Disease (EVD) is a rare and deadly illness in humans and nonhuman primates. It was first discovered in 1976 when two outbreaks of a fatal hemorrhagic fever illness occurred in Central Africa. It is thought that the natural host of the virus is fruit bats, but more research is needed to confirm this. There are five identified strains of the virus. Of these, four are known to cause disease in humans. These include the Zaire ebolavirus, Sudan ebolavirus, Tai Forest ebolavirus, and Bundibugyo ebolavirus.
The virus spreads from human to human or infected animal to human via direct contact with blood, secretions, or other bodily fluids. The course of the illness typically progresses from "dry" symptoms, such as fever, aches, pains, and fatigue, to "wet" symptoms, such as diarrhea and vomiting. Eventually, the virus can cause issues with blood clotting, leading to internal bleeding and sometimes death. Case fatality rates vary from 25 to 90 percent but on average, 50 percent of people who contract the virus will die.
Uganda Ebola Outbreak
Almost four years ago to the day, we reported on the 2018 outbreak of the virus in the Democratic Republic of Congo. That outbreak lasted until June 2020 and resulted in the death of 2,280 individuals, making it the second deadliest outbreak of the virus after the 2014 to 2016 outbreak of the virus. Unfortunately, on September 20, 2022, the Ugandan Ministry of Health confirmed yet another outbreak of the virus in western Uganda.
At the time of this report, outbreaks have been reported in the Mubende, Kyegegwa, Kassanda, Kagadi, Bunyangabu, Wakiso, and Kampala districts of Uganda. Uganda's capital Kampala is densely populated, raising concerns of experts even further. Rapid response teams have been deployed to support in surveillance, epidemiology, and laboratory efforts. The latest World Health Organization (WHO) figures have confirmed and suspected case totals at 157, confirmed deaths at 52, and probable deaths at 21. This puts the case fatality rate at nearly 40% for this particular outbreak.
Ebola Strains
The strain of the virus that is currently circulating throughout Uganda is the Sudan strain. Unlike other strains, including Zaire, which circulated in 2018, the Sudan strain has no vaccinations approved to stop the virus from spreading. However, the World Health Organization reports that there are several candidate vaccines that appear suitable for evaluation in a clinical trial during the ongoing outbreak. In addition to the lack of effective vaccination, there is also no approved treatment for this virus strain.
On November 1st, the World Health Organization raised its Ebola risk assessment for Uganda from high to very high. However, it determined that the global risk level remains low. Despite this, VIGILINT recommends that all travelers avoid non-essential travel to Uganda. If travel is necessary, sick people, blood, and bodily fluids should be avoided. Travelers should isolate immediately and seek medical care if they develop any of the signs and symptoms of Ebola within 21 days of travel to Uganda. VIGILINT will continue to monitor this story as it develops.