April 17, 2017: One year ago, the World Health Organization (WHO) declared Zika a global public health emergency. While that formal emergency designation was rescinded several months ago, Zika remains a serious health threat for governments, corporations, and travelers. Its severe repercussions for pregnancies and rare but potentially severe complications in adults, wide geographic spread, and ease of transmission make Zika a complex challenge to manage.
VIGILINT is providing an overview of the current global Zika situation to help international travelers meet the challenge of the disease. This briefing traces Zika's spread from Africa through Asia to Latin America to contextualize 2016's global outbreaks, examines the current status of Zika diagnostics and vaccination, illustrates Zika's global scope, and provides recommendations for travelers to prevent and manage Zika infection.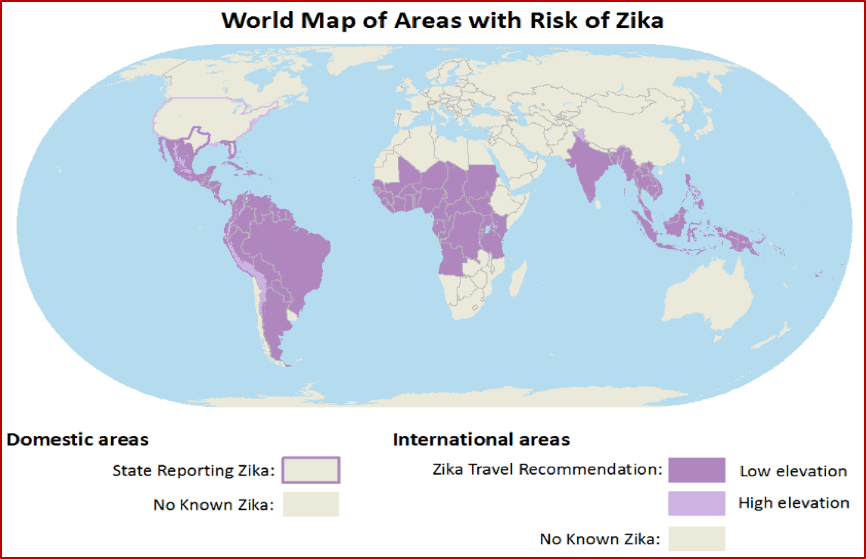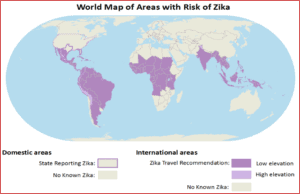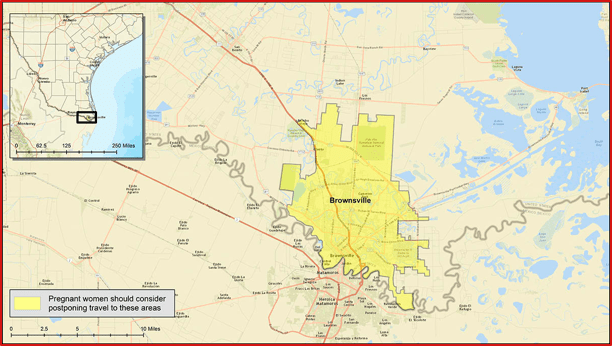 DISEASE CHARACTERISTICS: 
Symptoms and Complications:
Zika Virus usually has mild or no symptoms but can cause severe complications, especially for pregnant women
Symptoms include fever, rash, headache, joint and muscle pain and conjunctivitis (red eyes)
Infected adults face significantly increased risk of Guillain-Barre syndrome, an illness in which the immune system attacks the body's own nerves, potentially causing paralysis or death
Children infected in utero suffer high rates of birth defects and developmental disorders, including microcephaly (shrunken head/brain) seizures, joint deformities, and sensory disorders
Zika may also cause cardiac arrhythmia, heart failure, encephalitis, and myelitis in adults; without further research, the causal link between Zika and these complications remain uncertain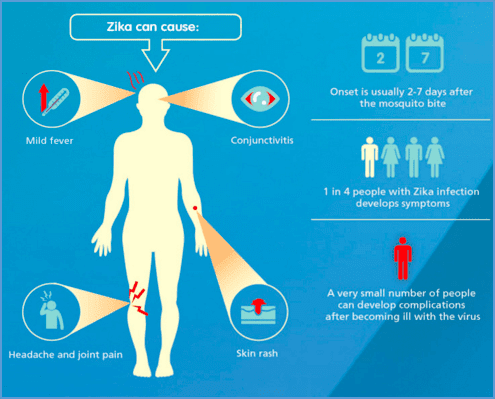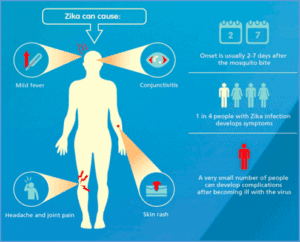 The primary transmission route has been identified as the bite of the Aedes aegypti and Aedes albopictus mosquitos, found throughout Latin America, Sub-Saharan Africa, East and South Asia and the Southern United States. Individuals with the disease can also transmit it to others through bodily fluids, including sexual transmission and blood transfusions. Once infected, the symptoms can be so mild that 4 out 5 infected persons don't notice any crucial difference in their wellbeing. This is why competent testing is so critical, since symptoms can often be dormant. Pregnant women who have been in areas with known outbreaks, and believe they may have been infected, remain the highest priority group for testing. Right now, the CDC offers three tests for Zika infection:
Trioplex Real Time Assay, which can detect Zika virus molecules in blood or urine taken from a patient within 2 weeks of infection
Zika MAC-ELISA, which detects anti-Zika antibodies in blood or urine samples taken after two weeks of infection, but often gives inconclusive results
Plaque Reduction Neutralization Test (PNRT), which can confirm Zika infection after positive or neutral MAC-ELISA results
However, these tests are not without issues. Some pregnant women have waited as long as two or three months to receive confirmed Zika PNRT results from the CDC. However, once individual states can conduct PNRTs themselves, those wait times should fall to just weeks. Florida, the continental US's largest Zika hotspot, has not met a publically-announced deadline to start PNRT testing by mid April.
As of the date of publication, there is not a clear path for treatment, but the National Institute of Allergy and Infectious Diseases (NIAID), part of the National Institutes of Health (NIH), is currently implementing the first Phase 2 (effectiveness and safety) clinical trial of a vaccine, which began on March 31 of this year. NIAID scientists report that this trial will not show clear effectiveness until the end of 2017 at the earliest. And due to the drop offs of Zika Infections after the 2016 outbreak, it may prove challenging for Phase 3 vaccine trials to demonstrate effective protection against the virus, leaving Zika vaccines' efficacy uncertain. Adding to the complications of developing a vaccine is the licensure red tape. Efforts are ongoing to accelerate the expected multi-year licensing process by advancing the developmental timeline of the vaccine.
Perhaps the loudest message coming from the CDC in regards to Zika is prevention. Peggy Hoenin, co-leader of the CDC Zika Response Team's Pregnancy and Birth Defects Task Force has said that prevention is key and relatively basic. Outlined are VIGILINT's recommendations for Zika prevention:
Practice effective anti-mosquito precautions while traveling to Zika affected areas

Wear long sleeve shirts and pants whenever possible, bur particularly when outside;
Wear Permethrin-treated clothing;
Use insect repellent with at least 25% DEET;
Sleep with mosquito nets over the bed;
Remain indoors in areas with air conditioning; and
Avoid areas with untreated standing water (like ponds and wetlands)

Utilize condoms and practice safe sex or abstinence while in Zika-endemic and outbreak zones; if Zika is contracted, use condoms for at least the next six months
Delay travel to areas if pregnant or planning to become pregnant
Contact VIGILINT for additional guidance or support
Outbreak Background and History:
1952-2014: Discovery and Early History of Zika
1952: First human cases of Zika discovered in Tanzania and Uganda
1952-2007: Researchers confirm only 14 cases of Zika virus worldwide, even as scientists map its spread from East Africa through Asia to the Pacific
2007-2014: First recorded Zika outbreaks strike Pacific islands; research into 2013's French Polynesian outbreak suggests Zika can cause severe autoimmune and neurological complications
2015: Zika Spreads Through the Americas
May 2015: Brazil confirms the first outbreak of Zika in the Americas
October 2015: Colombia confirms over 100 cases of Zika
November 2015: Brazilian researchers find evidence linking Zika to a spike in microcephaly cases; Mexico, Venezuela, El Salvador, Guatemala, Paraguay, and Suriname all report local Zika transmission
2016: Global Health Emergency and U.S. Health Threat