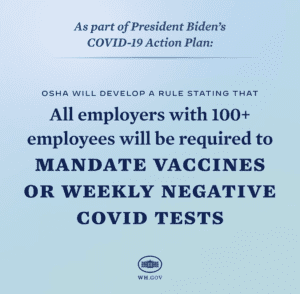 Today, President Biden announced a six-pronged national strategy to expand the federal government's response to COVID-19.
The Department of Labor is developing a rule that will require all employers with 100 or more employees to ensure their workers are fully vaccinated and require unvaccinated workers to be tested on a weekly basis. In addition, employers will be required to provide paid time off for workers to get vaccinated or recover from post-vaccination illness. This requirement will impact over 80 million workers in the private sector. Companies that fail to comply can face fines up to $14,000 per violation. The new rule will be enforced by the US Department of Labor's Occupational Safety and Health Administration (OSHA).
The President also signed an Executive Order directing all federal employees and contractors that do business with the federal government to be vaccinated. These workers will not be allowed to submit weekly tests in place of vaccinations.
The plan mandates that vaccinations will be required for over 17 million healthcare workers at facilities that receive Medicare and Medicaid funding. These facilities include hospitals, dialysis centers, ambulatory surgical settings, and home health agencies.
The Department of Defense is doubling the number of DOD clinician teams deployed to support hospitals struggling with surges in COVID-19 cases. The Department of Veteran Affairs is also opening beds in Veteran Affairs' facilities to reduce the burden on local hospitals.
The weekly shipments of approximately 100,000 doses of monoclonal antibodies will be increased by 50%. In addition, monoclonal antibody strike teams will be deployed through HHS, FEMA, and DOD to help hospitals deliver the treatment.
The Administration is preparing for booster shots to be available during the week of September 20th for vaccinations approved by the FDA.
President Biden called on all states to adopt vaccine requirements for school employees. In addition, the federal government will provide additional funding to school districts to support the reopening of schools and the regular testing of students and staff.
The plan includes increased testing and required masking through expanded testing production and availability, affordable at-home tests, and continued masking requirements for interstate travel and federal property.
In an effort to stimulate economic recovery, new loans for small businesses will be introduced, and the Paycheck Protection Program Loan Forgiveness Program will be streamlined.
The entire plan is available here.