As the US topped a whopping 2.8 million cases and a death count of 130,000 last week, cities and towns across the nation canceled July 4th firework displays and large public gatherings in an effort to prevent further spread of COVID-19. The fervor for holiday travel was scaled down this past weekend compared to prior years, yet thousands of social media images from around the country show packed beaches, crowded restaurants, and people celebrating without masks and in close confines. Following the Independence Day celebrations, Florida reached 200,000 cases on Sunday. And on Thursday, ahead of the long weekend, the Sunshine State broke NYC's single-day record high with 11,458 new cases.
Sharp Contrast in Current Case Count between the US and EU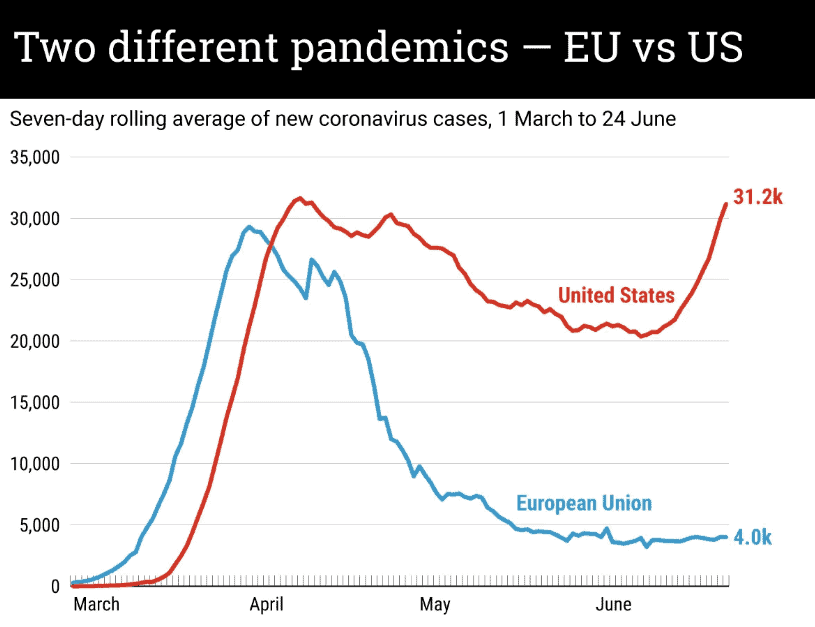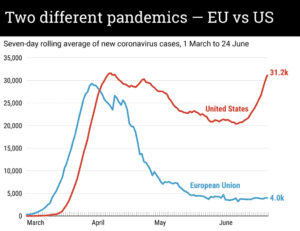 Recent data from Johns Hopkins University shows 40,000 new cases per day in the US and rising infection rates in 36 states. Even at the lowest peak at the end of May when most of the country was in quarantine, the US was reporting 20,000 cases per day. While we are familiar with the "second wave of infections" warning, leading public health officials point out that the US never flattened the curve to have ended the first wave. At a US Senate hearing last week the United States leading COVID-19 researcher, Dr. Fauci, warned that we could start seeing cases spike to 100,000 a day.
In sharp contrast, in the 27 countries of the European Union, where the population is greater than the US by more than 100 million, cases have steadily declined to ~ 3,000 infections per day. As reported by VIGILINT, Italy was one of the early hard-hit countries in the pandemic as COVID-19 infections soared in February and March. The Italian government acted swiftly and shut down the northern region of Lombardy, where the outbreak first began and closed the rest of the country a few days later. At the time, the gut-punch situation in Italy showed the rest of the world that the virus was no longer confined to China, as it quickly scaled to a much larger and deadlier global health care crisis. Now, however, after months of quarantine, Italy has flattened the curve and some normalcy has returned. The road to reopening was deliberate and calculated – just as it was in Germany and France – and those efforts have contained the virus to a more manageable crisis.
Two Vastly Different Approaches
Dr. Fauci highlighted three areas where America got off track:
States reopened too quickly and too loosely (cases had not declined enough in most states to have safely reopened)
 Lack of human compliance (people have not been abiding by social distancing guidelines that could minimize transmission)
Insufficient contact tracing capabilities (states inability to contact individuals who may have been infected by a person who was recently diagnosed to prevent further spread)
These factors and more have lead to the recent surge in cases and driven hospitals to capacity in major cities, including Houston, Texas, where the state is experiencing an acceleration of cases. The recent claim from the White House that the 99% of cases are "totally harmless" is false – according to Dr. Peter Hotez, dean of the National School of Tropical Medicine at Baylor College of Medicine in Houston, who stated, "15%-20% of patients are hospitalized and of those, about half go into intensive care with permanent injury."
Meanwhile, in Europe, restrictions are still widespread. Airports, office buildings, and restaurants are still closed in many areas. Public health policy is the responsibility of the individual member state and yet the Schengen zone (most EU States) engaged in rapid and strict lock-down measures and cautiously reopened only after cases truly started to decline. On July 1, the EU reopened their borders for international travel to citizens of specific countries that met strict criteria. Among the requirements – a country must have equal or fewer cases per 100,000 people to the EU average. On June 15, the EU had 16. America had 107. Countrywide testing, containment, and contact tracing capabilities are other requirements. These regulations will be revisited every 14 days, but for now – citizens from the United States are banned from traveling to the EU.