TRAVEL MEDassist program (tmap) was created to remove time and distance from the traditional healthcare access model and to reduce medical-related stress and anguish for global travelers.
Through a single point of contact, global travelers have immediate, unlimited access to the VIGILINT medical operations center and emergency medicine physicians. Combined with a personalized Travel Medical Kit, TMAP delivers immediate medical care, one member at a time.
HOW IT WORKS:
VIGILINT emergency physicians conduct a telemedicine consultation with each TMAP member to perform a medical intake and prescribe necessary medications.
VIGILINT Travel Medical Kits (TMKs) contain prescription medications and first aid supplies and are mailed to the member prior to departure. If the individual becomes ill or injured while traveling, one call to VIGILINT and within 30 seconds, an emergency medicine physician is on the line to guide the member through the appropriate medication to take from the TMK, or which hospital or medical facility they should go to.
VIGILINT Physicians are board-certified and have prior experience with the US military, National Security Council, CDC, US Departments of Homeland Security and Health and Human Services, or emergency medicine leaders.
YOUR TRAVEL MEDICAL KIT
Our customized Travel Medical Kits are about the size of a shaving kit and include prescriptions and emergency medical supplies. Medication categories include: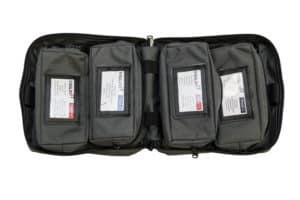 Anti-infectives including: Antibiotics, Antifungals, Antivirals
Non-Narcotic Pain Medications
Dermatological Medication
Gastrointestinal Medications
Nausea Support
Diarrhea Support
Urological Medication
Eye, Ear, Nose and Throat Medications
Anti-inflammatories and Analgesics
Sleep Adjuncts
First Aid Supplies for minor stings, burns, and cuts
"As a global media and communications company, complex medical challenges frequently confront our offices and business travelers. VIGILINT plays a valuable role in our crisis management process as a trusted medical advisor. Their team is incredibly knowledgeable and responsive. Global companies like ours are constantly affected by international health issues and VIGILINT has been a true partner when we needed an informed opinion to help set policy and guidance with respect to medical challenges affecting the health and safety of our employees and our ability to meet our client obligations. They are my first call whenever a medical crisis arises."
-Director of Business Continuity & Crisis Management, Fortune 500 global advertising and marketing services company