Holiday travel is stressful enough without having to worry about cancellations, medical emergencies, and other journey-derailing challenges. That's why millions of Americans collectively spent $2.8 billion on travel insurance and protection plans in 2016. But many of these travelers might be in for a nasty surprise if a health crisis hits them: their travel insurance alone will rarely cover medical evacuation or repatriation.
Even travelers with travel medical coverage through their employers might find themselves out in the cold without a membership with an evacuation provider. Corporate coverage, like travel insurance, rarely allows travelers a choice of hospital. Credit card medical evacuation plans sometimes provide better coverage, but tend to have restrictive terms of use and may force travelers to work out complex logistical details themselves. For everyone else – and for travelers who need more reliable coverage – there are medical evacuation memberships with leading medical evacuation providers like MedJet Assist.
True medical evacuation includes flights with appropriate medical care taking a patient from one hospital to another of their choice, usually covering at least a 100 mile distance. Yet when travelers fall ill, travel insurance and corporate coverage usually only cover transportation to the nearest hospital, and not transfers to better hospitals or repatriation to the traveler's home country. In fact, only 7.8% of travel protection programs provide medical evacuation benefits at all. With fees of up to $100,000 for an uncovered medical evacuation, sick or injured travelers with travel insurance alone may have to choose between their health and bankruptcy.
As part of VIGILINT's Global MedAssist Program (GMAP), we partner with MedJet Assist to offer medical evacuation services should travelers ever find themselves in an emergency situation. Working together, VIGILINT and MedJet's expert staff ensure a safe and quick arrival at the patient's hospital of choice or a vetted hospital scouted by our GMAP team. From the onset of the crisis, VIGILINT's Medical Intelligence Center and on-call ER physicians ensure that continuity of care is provided and manage the medical evacuation transfer from start to finish. For patients like Tara, whose Hanoi trip might have turned deadly if she had to rely on local medical care, GMAP's comprehensive services and robust logistical support made all the difference in the world.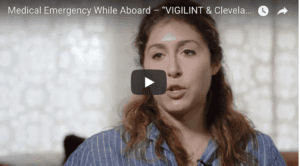 Whether you're traveling around the world or around the country, VIGILINT's GMAP offers the health protection you need to travel with confidence. Contact VIGILINT for more on GMAP and other health protection service offerings.