Traveler's diarrhea is one of the most common health issues individuals can encounter while traveling in a foreign country. Also known as TD, the stomach and intestinal infection is so common, the CDC reports nearly 30% to 70% of all travelers experience a type of Traveler's diarrhea while traveling. The unpleasant illness has earned infamous nicknames like "Montezuma's Revenge," "Pharaoh's Revenge," and "Delhi Belly." It can take up to 4-7 days to recover from the infection – and it's important to plan ahead if you plan to travel to area's where this type of infection is more common.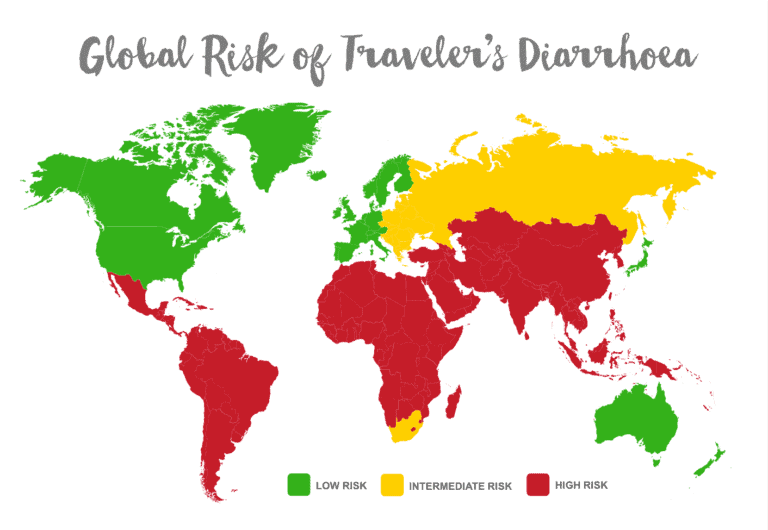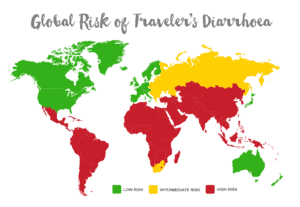 What is Traveler's diarrhea?
Traveler's diarrhea is a digestive tract disorder that commonly causes loose stools and abdominal cramps and is not often serious, though in some cases, has proved fatal.  Traveler's diarrhea can cause severe dehydration in a short time, and individuals with heighten risk for severe illness are people over 50 years old, women who are pregnant, and children, as well as those with diabetes, heart problems, inflammatory bowel movements, and immunodeficient diseases.  
According to the 

CDC

, 

t

he highest risk destinations are Asia, the Middle East, Africa, Mexico, and Central and South America. The intermediate risk destinations are Eastern Europe, South Africa, and some Caribbean Islands. The low risk destinations are the US, Canada, Australia, New Zealand, Japan, and Northern and Western Europe.

About 80-90% of traveler's diarrhea cases is rooted from a bacterial issue which is often spread through contaminated food or water. Bad bacteria is spread via poor hygiene-related practices in local restaurants; however, trying to prevent traveler's diarrhea by taking dietary avoidance measures is not often successful. Generally, improved hygiene has reduced the risk of traveler's diarrhea from 20% or more, to between 8% and 20%, it is advised to practice good overall hygiene and wash your hands often.Should you acquire traveler's diarrhea, you can call our 24/7 Operations Center who will be happy to connect you to one of our board-certified emergency physicians for immediate assistance. Through our Global MedAssist Program (GMAP), we prescribe personalized Travel Medical Kits (TMK) that tailor to your individual needs. Our kits contain a variety of medicines and medical supplies for any situation you may come across while traveling. These kits include medications that can help you overcome traveler's diarrhea so that you can continue with your planned trip. Our travel-minded emergency physicians talk to you personally before your planned trip to personalize your TMK and should you run into issues on your trip, they can walk you through exactly what to use in that kit to resolve your issue. Avoid inadequate healthcare facilities by using one of our itinerary based medical contingency plans. Our VIGILINT 24/7 Medical Operations Team researches and audits medical facilities in your destination and provides a list of vetted facilities in case of an injury or illness.