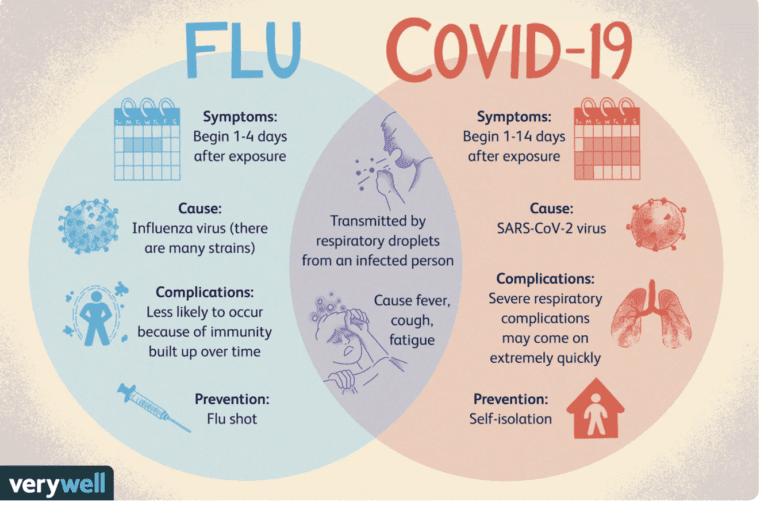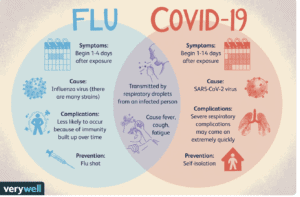 As of September 17, 2020, there are over 29.9 million COVID-19 cases and 941,000 deaths worldwide. The United States leads the count with over 6.65 million cases and 197,000 deaths. The influential model from the Institute for Health Metrics and Evaluation projects there could be approximately 415,000 COVID-19 deaths by January 1, 2021 in the US.
As the US continues to grapple with the pandemic, health experts warn of a more conventional threat: the flu. The combined threat of flu and COVID-19 will likely exacerbate existing issues within the public health forum and for individual risk. Fortunately, efforts to combat the pandemic and increased emphasis on flu vaccination will likely have a positive effect in blunting the force of the seasonal flu.
Impact of Dual threat
Flu season poses a serious public health threat even in normal years:
The CDC estimates that the 2018- 2019 flu season resulted in up to 45 million cases resulting in 35,000 deaths
Influenza causes US workers to miss an estimated 111 million workdays annually, resulting in $16.3 billion in lost earnings
Health officials worry about the possibility of patients dealing with both COVID-19 and the flu simultaneously. The CDC has reported that it is possible for individuals to contract both viruses simultaneously. In fact, a study published in April in JAMA found that approximately one in five patients that were diagnosed with COVID-19 also had the influenza virus. Research is ongoing, but it logical to assume that a dual diagnosis would hinder a patient's ability to fight either virus, which could result in more serious complications for the patient.
A major concern is the added stress influenza will cause to the already strained healthcare infrastructure. The 2018-2019 flu season saw approximately 500,000 hospitalizations. By comparison, as of 13 September the US has seen almost 386,000 COVID-19 related hospitalizations. Throughout the pandemic, hospitals across the country have been strained to capacity by COVID-19 patients. A surge in hospitalizations due to the flu could be enough to push some hospital systems over capacity, forcing hospitals to make difficult decisions on which patients to prioritize for treatment and potentially leading to more deaths or serious complications.
Flu season may further strain COVID-19 testing capacity and cause an increase in delays. The US continues to face a shortage of tests and long delays in results (7- 10 days for some areas). Testing delays make it more difficult to accurately assess and combat the spread of COVID-19. In normal flu seasons, individuals can be treated for the flu if they have "flu-like symptoms." This allowed the patient to be treated without waiting for a test to come back— saving time and resources. Unfortunately, COVID-19 and influenza (see image) have similar symptoms that can make it difficult to differentiate which illness and individual has without a test. Tests have been developed to test for both the flu and SARS-CoV-2 simultaneously, but there will likely continue to be delays in testing.
Why Flu Season May Be Less Severe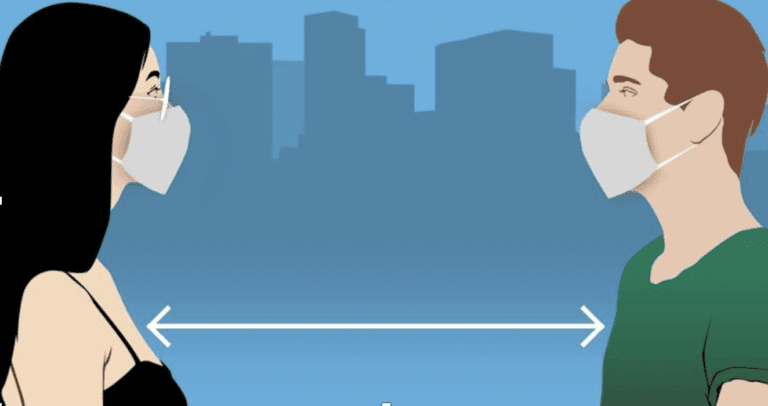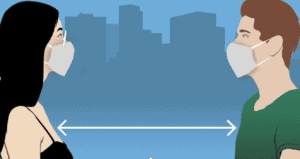 In April, CDC Director Robert Redfield predicted that the impact of both flu and COVID-19 will put a significant strain on the healthcare system. In August, Redfield updated his assessment to state: "This could be one of the worst seasons we've had from a public health perspective with COVID and flu coming together. But it also could be one of the best flu seasons we've had."
Despite obvious public health challenges that flu season causes; the social distancing, increased attention on flu vaccinations, and school policies put in place to prevent the spread of COVID-19 may also prevent the spread of the flu.
To combat the COVID-19 pandemic officials continue to advise individuals to:
Wash their hands,
Wear masks in public
Stay 6 feet away from others while in public
Limitations on mass gatherings and other activities are also in place in many parts of the country
These measures will also likely have a positive impact on preventing the spread of the flu, because both flu and COVID-19 have the same modes of transmission: contact, droplets and fomites (objects or materials which are likely to carry infection, such as clothes, utensils, and furniture).  In fact, several countries in the southern hemisphere report that their flu season was well below average. Hong Kong found a substantial reduction in flu transmission once social distancing measures were enacted. Australia reported just 36 flu-related deaths from January to August- down from 480 in 2019, a substantial decrease that is unlikely to have been the result of chance. Experts believe this reduction is due to the same policies designed to prevent COVID-19.
To prevent the issues associated with the dual threat of COVID-19 and the flu, public health officials are stressing the importance of obtaining a flu vaccine. Redfield set the goal of 65% of US adults receiving a vaccination for the flu. In normal years, only about 40% of adults receive the vaccine, with minority groups receiving the vaccine at lower rates. Some states are taking more direct approaches. For example, Massachusetts has mandated all children attending public schools this fall receive a flu vaccine, with only limited exemptions for religious and medical concerns. (don't other states have this same mandate? Yes! But they had those policies in place before the pandemic) Other states have considered enacting similar mandates. The heightened awareness around flu vaccination will likely increase the percentage of adults receiving the vaccination, thus reducing the prevalence of the flu.
Another factor that may lead to a less severe flu season is the emphasis on virtual learning in schools. School aged children are a major driver of flu season and closing schools frequently reduces the spread of disease. By reducing the number of children in close quarters and emphasizing the importance of staying home while sick, these policies may in turn reduce the prevalence of flu in society by preventing the primary drivers of the disease from exposure.
Managing Expectations for Flu Season
Despite these positive signs, the flu should continue to be taken seriously. The WHO has stressed that the flu has not disappeared. Specifically, some of the reduction in recorded flu cases may have been due to individuals not seeking care out of fear of COVID-19, rather than them not catching the virus. Additionally, many parts of the US are continuing through various stages of reopening and reducing social distancing mandates as flu season approaches. This differs from the southern hemisphere, where the start of the pandemic coincided with the start of flu season, potentially diminishing the positive effect social distancing can have on the flu.
The similarities between the flu and COVID-19 increases the likelihood that impending flu season will carry increased risk to individual health and medical infrastructure capacity. This risk will be somewhat mitigated by efforts to combat the pandemic, which will likely result in a flu season that is less severe than average. Individuals should continue to take both viruses seriously to prevent harm to high risk populations.