COVID-19 Vaccine Approved for Children 5-11
Kids 5 and up can now get their age-appropriate dose of the COVID-19 vaccine, which is the most effective way to protect against the virus—hard stop.
After a year that saw parents scrambling to find ways to protect their children from illness and keep their kids educated in a virtual or homeschool environment, the COVID-19 pandemic created concerns that were unprecedented for families. Parents were confronted with the dual challenge of a subsequent shift to remote work while providing childcare/lessons for their children or continuing their essential work outside the home and finding childcare elsewhere. Now, with an approved vaccine for children as young as five years old, families have access to a scientifically proven method to protect their kids from severe illness and resume normal activities.
COVID-19 Related Complications in Children 
On October 29, 2021, the FDA officially granted the Emergency Use Authorization (EUA) for the Pfizer vaccine for Americans aged 5-11, roughly 28 million children,  and the CDC backed the recommendation. While it is true that children infected with the virus tend to have more mild symptoms than adults, some children can get very sick and can suffer from both short and long-term complications from the disease. For example, of the 2 million cases within this age range, 8,000 were hospitalized, and 150 died of COVID-19 related complications. Additionally, MIS-C, a severe condition associated with COVID-19 where different body parts can become inflamed (including the heart, lungs, kidneys, brain, skin, eyes, or gastrointestinal organs), is more common in children that had COVID-19 than adults.
Vaccine Effectiveness
In the Phase III Pfizer vaccine trials for children aged 5-11, the immune responses were similar to individuals 16-25 years old, and effectiveness was found to be 90.7% in preventing transmission of the disease. In addition, of the 3,000 kids who participated in the trials, there were no cases of anaphylaxis (a severe but very rare allergic reaction that could cause a rapid heartbeat, difficult breathing, and swelling of the throat).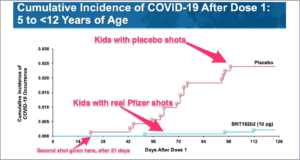 Further, severe reactions are incredibly uncommon among the millions aged 12 and older who have already received the vaccine. If your child has any known allergies to the components within the vaccine, parents should discuss those concerns with their pediatrician. Food allergies or other allergies are not considered a contraindication to the vaccine. The only difference between the vaccine for kids 5-11 and adults is the dose. The dose is a ten-microgram dose (1/3 of the amount for individuals 12 and older).
Child Care Dilemma
According to the American Academy of Pediatrics, there are 6.5 million children aged 0-19 that have had COVID-19 since the start of the pandemic. Cases have decreased since their peak of 252,000 during the first week of September, but cases among kids have remained high, and children now represent 16.7% of the total cumulated cases in the United States.
More kids' sick means kids stay home to recover, missing school, and employed parents face the challenge of missing work to care for their young ones. In January, the Pew Research Center polled employed parents of children aged 12 or younger, and 52% stated it had been difficult to handle child care responsibilities (up from 30% in March 2020) due to the pandemic. In addition, the same study found that 57% of these parents had jobs that could not be done remotely, making a sick day for their child a loss of a day at work and a potential loss of wages.
Previous studies from Pew have shown that women are more likely to experience the pull and tug nature between working and parenting. The pandemic no doubt exacerbated that already tight balancing act for mothers. As the 2020 fall school semester began, 52% of US schools went remote-learning only, requiring parents to assist and supervise their children with their studies at home, and most of the education oversight supervision came from mothers.
The Larger Impact of a COVID-19 Vaccine for Children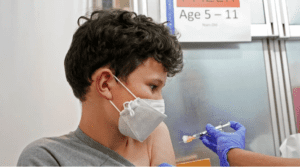 The recent Pfizer vaccine authorization for children is a promising sign of potential widespread containment. With the combination of this unvaccinated population entering the schoolyards this fall and the surge of Delta variant cases, pediatric cases began to soar in early September.
Medical predictions show that as this population begins their vaccination series, it could have a more significant impact on managing the spread of the disease for adults and help restore some normalcy to schools and the work/life balance for parents.
VIGILINT Recommendations
VIGILINT recommends families should consider getting their children vaccinated against COVID-19 as the best safeguard against the disease and as an effort to help contain the disease in the community at large. The two-dosage vaccine will be administered three weeks apart and accessible via pediatricians' offices, community health centers, children's hospitals, and pharmacies. Please check with your local medical resources to make an appointment.